Iʻm Sean 
I began my first Off-grid Homestead in Hawai'i over 18 years ago.  Since then I have helped others develop homesteads of their own in Hawai'i, California, & Mexico.
I believe it is my kuleana to help others with their homestead dreams.  Everyone deserves a life that reconnects them to the 'aina.  It is important not only for ourselves but for our future generations as well.
Join me on this journey towards a more regenerative lifestyle.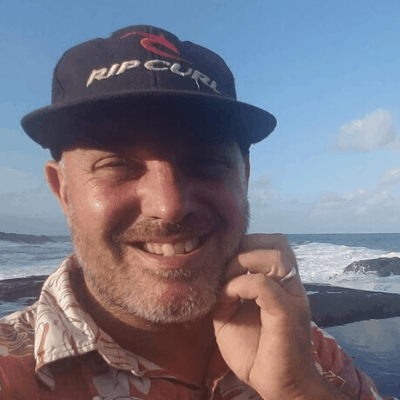 My Story
---
Aloha.  My name is Sean Jennings.  I've been off-grid Homesteading in Hawai'i since 2003 when I first took the plunge at 23 years of age to begin my dream of off grid living.
I grew up in Los Angeles, always cruising the coast on the hunt for surf.  But I was also feeling trapped.  Traffic.  People.  Crappy jobs.  Eventually I wanted out.  I longed to live in a place with warm water and a simpler lifestyle.  I have always idealized Hawai'i as a surf mecca.  So after a few internet searches looking for cheap land (which I learned Hawai'i Island had a lot of) and learning about Permaculture, I sold all my things and moved to Hawai'i Island, sight unseen.
I began my journey WWOOFing on a Permaculture farm walking distance to a fun surf spot (Now covered by lava).  I loved my new life and quickly bought an affordable slice of paradise that I could call home.
It was tough at first.  I moved into my van and slowly developed my small 1/2 acre parcel.  I would even go to the dollar theater at night just to bum electricity to charge my batteries while watching cheap movies.  And it rained all the time.  I don't remember having a dry day the whole time I was building, but I did it.  Never built anything in my life and finally I had my own off grid homestead.
I loved living off grid, but as a young man, I still had some wonderlust in me.  Somehow, my journey brought me back to LA where I landed a project developing a property in Malibu by turning it into a mediterranean food forest.  It was a dream job.  I lived on site in a little trailer in Malibu, overlooking the ocean, getting paid to establish an amazing permaculture farm.
At the same time, I started a community group nearby called Westside Permies.  Over 100 people met monthly to strategize how to make positive change in our neighborhoods, and we did it! For 2 years we organized a massive gardening event that installed 100 edible gardens in a single weekend with the help of over 800 volunteers.  We built cob benches, educated 1000's and inspired change throughout the city.
That's when I met my wife.  We fell in love, had our first child and eventually came back to Hawai'i where my off grid home was still waiting.  That's when we really went crazy developing the property.  We started our food forest in 2012 and have radically transformed our lot from a grassy lot to an edible oasis.
But that did not last long.  My wife was homesick and missed her family in California.  So I landed a job in Northern CA as a farm manager, then eventually became a site manager and educator at the Permaculture Skills Center.  There I was in charge of hosting workshops, developing the property and expanding the on site CSA.  It was a really fun place to work, but the cost of living was taking its toll. 
Eventually, housing pressures moved us back to our ever welcoming homestead in Hawai'i.  We are grateful for it every day.  Now we have a secure place to live.  We do not have to stress out about money.  Our kids get to live in a home I built.  And we still get to travel.  Life feels very blessed.  It is in this place of gratitude for what I have that I hope to help others get to the same place.  
Thanks for reading.
My Bucket List
---
Catch a 10lb Papio (COMPLETE – Caught my first 3 years ago!)
Climb Mount Everest (COMPLETE – I climbed a few trails at the base of Mt Everest, counts enough for me.)
Have a Story Done About Me in the News (COMPLETE – I organized a big Garden Event in LA one year where the Newspaper Covered it.)
Surf in Indonesia (COMPLETE – Me and My Family Went last year.)
Speak in Front of Hundreds of People (COMPLETE – For 3 years I ran a community group in LA that regularly brought 200+ people to each meeting.)
Fall in Love and Get Married (COMPLETE – I asked my wife to marry me after one month of dating and we're still together, 10 years later.)
Buy a House (COMPLETE – Well I didn't buy a house, I bought land and built my own home, debt free.)
Have Kids (COMPLETE – I have 2 amazing children who I love more than anything)
Be a Soccer Coach (COMPLETE – I coach both my kids teams.)
Use a Fire Extinguisher on a Fire (COMPLETE – I almost burned a house down once by accident. I got it out)
Build a House out of Bamboo (COMPLETE – I built a small bamboo bungalow for some friends on my land.)
Paddle My Kayak from Waipio Valley to Pololu Valley on Hawai'i Island
Sail to Tahiti from Hawaii
Make $100k in one year
See the Great Wildebeast Migration in Africa
Go to Argentina where my Family is from