For most people, the idea of moving off grid conjures up images of doing laundry by hand or storing food in some kind of underground cellar.  That may work for some of you, but I'm not willing to take it that far.  Having the convenience of a household appliance can do so much to save time around the homestead.
Off grid appliances are just like your typical household appliance, except they use very little energy so that they can work with an off grid, battery backed energy system.  These may include specialized refrigerators, hot water on demand systems, off grid laundry machines and more.
There are many companies that specialize in developing appliances that work well in off grid situations.  It used to be that if you wanted an off grid refrigerator you would have to order from one of these niche companies at an extremely high price. 

That is not the case anymore.  Energy efficiency has come such a long way that you could pick up many of these appliances at your local Home Depot.  Let's dive into how we can find the best off grid appliance for our needs.
What To Look For In An Off Grid Appliance?
When I am shopping for an off grid appliance, there are a few things I take into consideration.  
Price
Energy Efficiency
Appliance Size
Ongoing Cost
Water Usage
Ease Of Maintenance
When we get into comparing our appliance choices, we will use this criteria to help us determine which appliance is right for the off grid homesteader.
Price
As a firm believer in being debt free, I like to be sure that any purchase that I make will deliver me the best bang for my buck.  I don't mind paying a higher price if that means getting a superior product, but I am not going to pay a higher price just because an item is trendy.

It is not always the case that price dictates quality so we will dive into price as one of the factors for determining which appliance is right for us.
Energy Efficiency
When your home relies on an off grid power system with battery storage, it becomes clear that every watt of power produced and stored is a valuable thing.

The best place to start is by checking out the Energy Star label that comes with any appliance.  An Energy Star label shows how much power an appliance is expected to use throughout a year, but not every appliance with an energy star label will be efficient enough for an off grid home.

If I was in the market for a new refrigerator, like I was recently, I would first check out every fridge and their energy star rating.  You may think the smaller the fridge the more efficient, but that is not always the case.  A mini fridge can use much more power than a conventional sized fridge, so check the labels carefully.

Then I would compare those ratings online to similar appliances manufactured specifically for the off grid homestead (such as Unique Appliances) and see how they compare.  Oftentimes an appliance at Home Depot will use just a little more power than a dedicated off grid appliance.
Appliance Size
Perhaps you need to save space, or are looking for something that has more space.  A chest fridge may have a large amount of cubic feet, but it's not as useable as an upright fridge that may be smaller.

Being clear on how big you need your appliance to be as well as how much capacity they have is just as important as energy efficiency or price.
Ongoing Cost
What may be cheap today may not be cheap over the long term.  Propane appliances may seem like the right choice in certain situations, but when you realize that it would take $20 in propane to run it every month, an all electric counterpart may not look so bad afterall.
The cost can even show itself in different ways, such as in the cost of replacement parts or by the need to purchase and certain component in order for it to operate properly.  Be sure to take into account ongoing costs in the overall cost consideration of your new appliance.
Water Usage
For some, how much water a household appliance uses is just as much if not more important than its power usage.  If you live in a dry area and your appliance is a water hog, that appliance can drain your water storage almost overnight.

Even if you live in a super wet area and rely on harvested rainwater, having an appliance that uses up water can still leave you dry.  When we compare our appliances, this part of the equation can sometimes make or break a purchase.
Ease Of Maintenance
As a DIY Off Grid Homesteader, I like to make sure that I can fix things if something goes wrong.  Going after the new high tech all digital appliance may not be the best thing.  Most likely, they'll be hard to fix. 

But I doubt we'd ever have that problem because the best appliances are the ones without any digital technology.  They look as if they came out of the analog era, no bells and whistles at all, meaning very simple to replace parts and make repairs.

Off Grid Refrigerators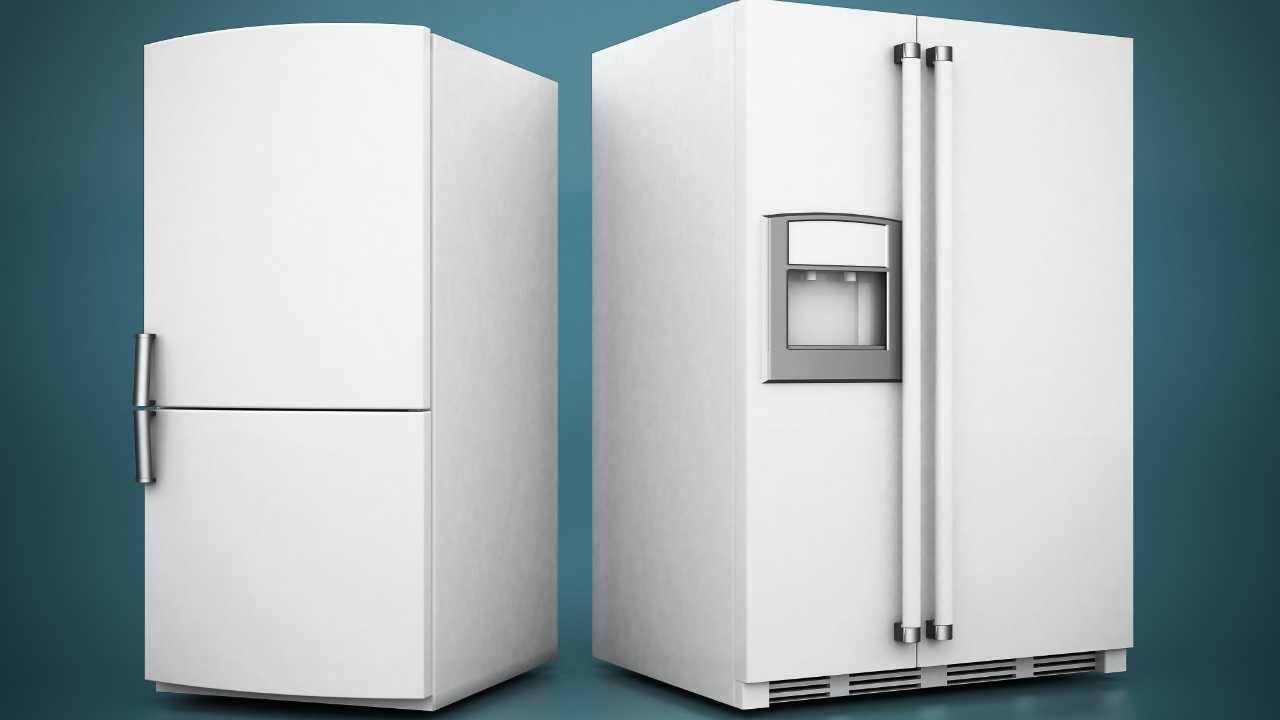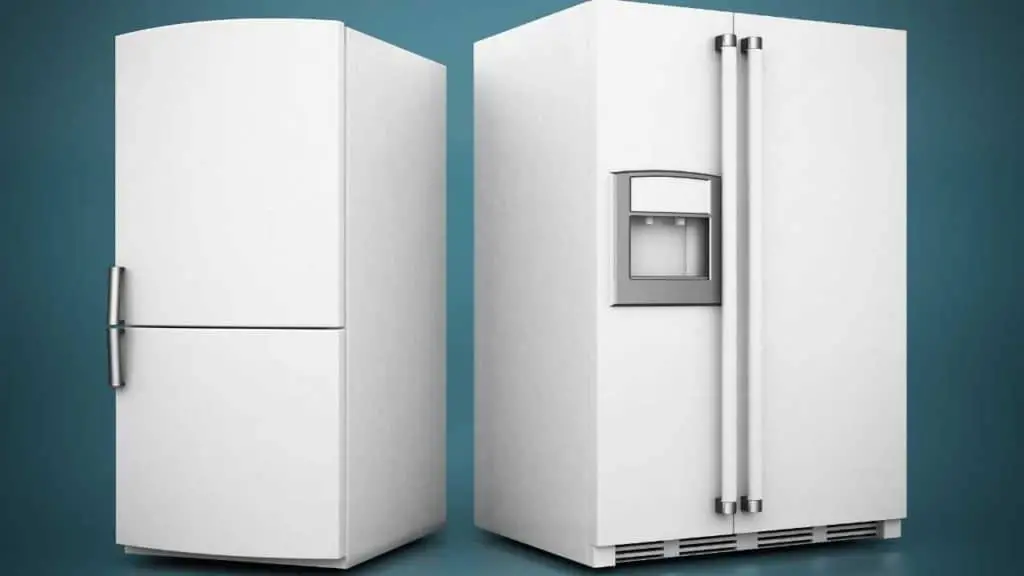 | | | | | |
| --- | --- | --- | --- | --- |
| | SunDanzer Solar Freezer/Fridge | Unique Propane Refrigerator | Unique DC 13 cu ft Solar Fridge | Magic Chef 10 cu ft Energy Star Fridge |
| Price | $1350 + Shipping | $1914 | $1780  | $409 |
| Energy Efficiency | 182 kWh/year | 1.8lbs LPG/day | 214 kWh/Year | 297 kWh/year |
| Size | 8 cu ft | 14 cu ft | 13 cu ft | 10 cu ft |
| Ongoing Cost | $0 | $32/month | $0 | $0 |
| Water Usage | N/A | N/A | N/A | N/A |
| Ease of Maintenance | Poor | Poor | OK | Easy |
The biggest energy consumer for the off grid homestead will most likely be the refrigerator.  You may be tempted to choose the fridge that uses the least amount of energy or a propane fridge that uses almost no energy at all, but as we dive into each one of these options, your opinion might change.
SunDanzer DC Solar Freezer/Fridge
This was the first fridge that I had on my off grid homestead.  I had it for over 15 years before it finally broke down, which says something about its longevity.

The Sundanzer Freezer/Fridge comes in an ice box design.  It is designed to be used as a freezer, but can be set to be a fridge instead.  About as tall as the average kitchen countertop, the lid is on top of the fridge that you lift open to discover the contents inside.

I was able to use this fridge with no concern that it would overload my battery backup system.

I was not a fan of having to dig through the fridge to find my find, since it all had to be stacked on each other.  Plus the puddles that would form on the bottom would get kind of gross.  
Water formation does not occur if the fridge is used as a freezer.  Many people I know would have the Sundanzer Fridge set in freezer mode and transfer the ice formed inside into insulated coolers that would act as their fridge.  It was a pretty ingenious strategy, but too much work for those looking for more off grid convenience.
| | |
| --- | --- |
| Pros | Cons |
| Highly Energy Efficient | Water Pooling in bottom |
| Great Meat Freezer | Cost |
| Can Be Used As DC Fridge | Awkward size for a Kitchen |
| Longevity | Finding What You Are Looking For |
| Does Not Need An Inverter | Can't Have Ice Cream If You Use It As A Fridge |
Unique Propane Refrigerator
After my Sundanzer broke down, I picked up a used Propane Refrigerator made by Unique.  I was excited at the idea of having a fridge that took no power.
The fridge uses propane as a way to keep it cool, which does require a propane hook up.  Unfortunately it used a lot of propane, and it smelled.  It also had to be cleaned regularly where the propane came through the fridge.  It was a nightmare.

It could be a great fridge for the garage or outdoor patio, it was not pleasant to have inside of the house.  That said, it could have been the used one that I got, but that wasn't why it used so much propane.  Apparently, they just use up propane and that constant expense caused it to be put up for sale.
| | |
| --- | --- |
| Pros | Cons |
| Takes Negligible Electricity | Uses too much propane |
| Easy Access to Food | Smells |
| Nicely Designed | Too much maintenance |
| Does Not Need An Inverter | Cost |
Unique DC Solar Fridge
When it was time for me to ditch the propane fridge and choose a new one, it was between the Unique DC Solar Fridge and the Magic Chef Fridge. 

What I liked about the Unique Fridge was that it was an upright fridge, making it easy to find what you are looking for.  It is also DC powered, no need for an inverter to convert your solar power into AC current.  This makes the fridge pretty energy efficient.
What I wasn't a fan of was the hefty price tag.  Coming in at almost $2000, this was not a cheap fridge. But, if you have a limited solar supply and enough money, this would be the fridge to choose.
| | |
| --- | --- |
| Pros | Cons |
| Energy Efficient | Expensive |
| DC power, No Inverter needed | Felt small, even though it is big |
| Upright fridge, easy to find contents | Hard to find parts for maintenance |
Magic Chef AC Energy Star Refrigerator
The Magic Chef Refridgerator is one that I found on display at Home Depot.  After checking out the energy star rating of each floor model, this one came in the lowest.  In fact it used just a little bit more power than the Unique DC Fridge.
The price on this fridge comes in at under $500 which gives you some options.  It works on AC power so you will need an inverter which can cost anywhere from $1k – $2k.  Also, depending on the size of your solar system, you may need an extra panel and some batteries.   You can see that the initial $500 cost can begin to add up now.
One thing I do not like about the fridge is that it has a condensation tray that regularly needs to be emptied out or else it will leak onto your floor.

Even with that, this fridge is everywhere.  New parts to fix it are easy to find and even if it does break, it won't break the bank to get a new one.  It was a tough choice.
| | |
| --- | --- |
| Pros | Cons |
| Affordable | Needs Inverter, good battery backup |
| Easy to replace parts | Slightly Higher energy use |
| Easy to find | Need to empty condensation tray |
Which Refrigerator We Chose For Our Off Grid System
After all the research, I finally decided upon the Magic Chef Fridge.  It did mean that I needed to add on a solar panel and a few more batteries, but I'd rather boost my energy production so I could use a more conventional fridge than have to special order in the Unique Fridge that could work on my existing system.

When all said and done, I probably added about $2k worth of components to my solar system so that I could operate the Magic Chef Fridge, so it's cost was similar to the Unique Fridge, but if the Magic Chef ever breaks down, all I need to do is go out and buy another $400.  Can't do that with the Unique Solar Fridge.
What We Chose
Stoves For The Off Grid Homestead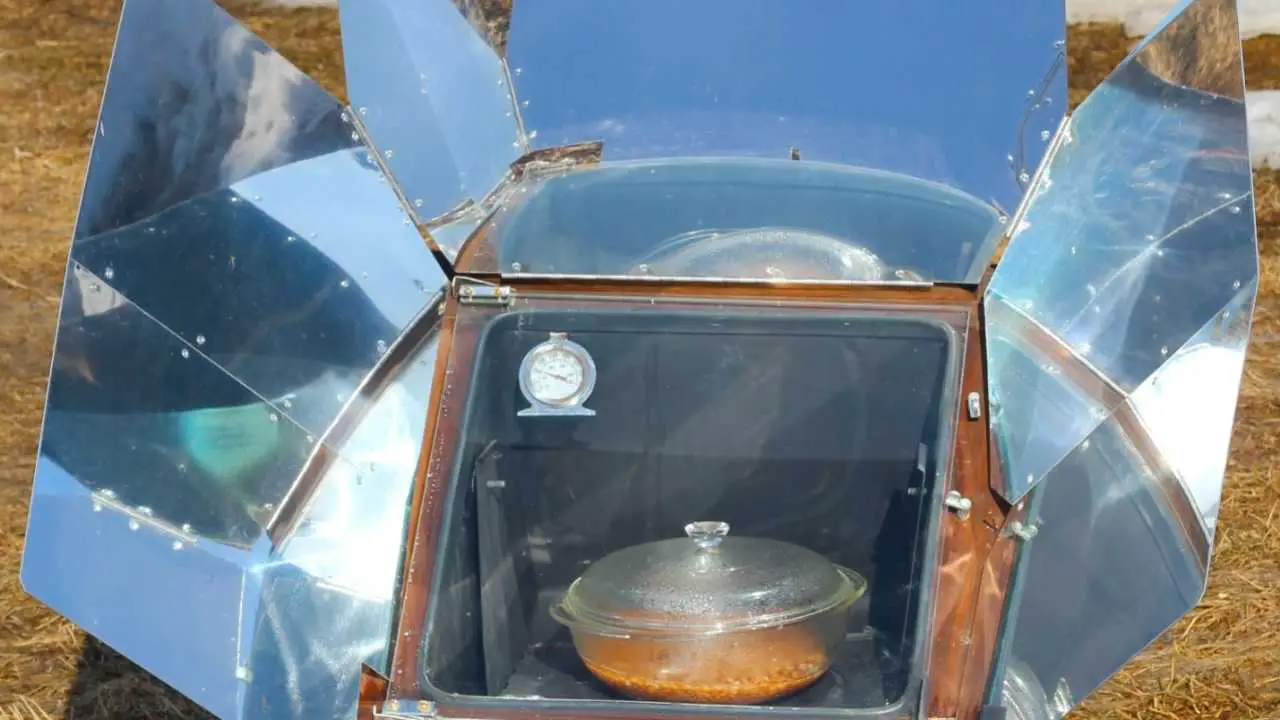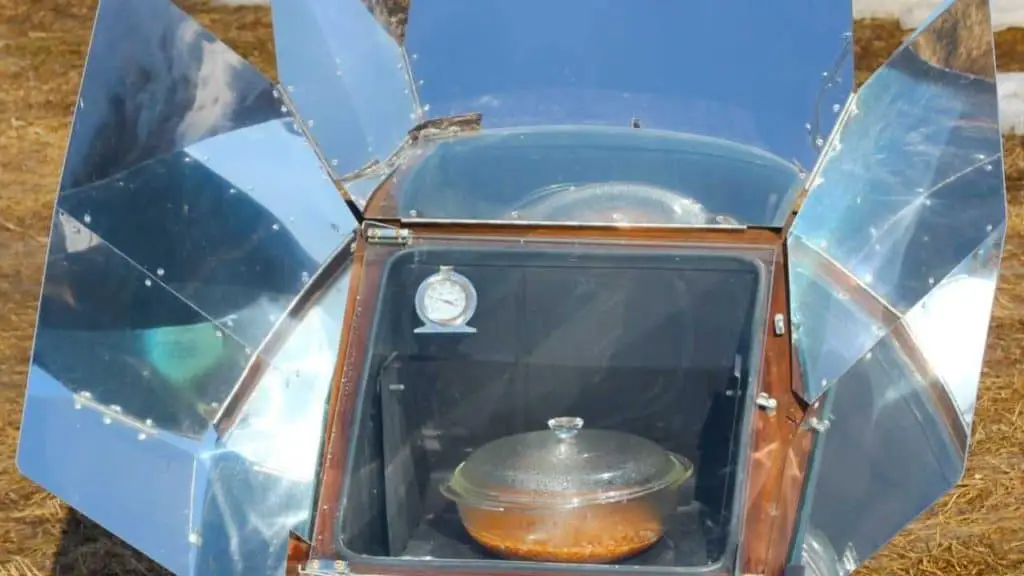 Stoves for the Off Grid Homestead are a little easier to choose than a refrigerator.  
By selecting a stove that has as few digital components as possible and runs off of propane, then you have a stove that works well off grid.  In fact, you don't really need propane, a solar oven utilizes the sun to cook food without the need for petroleum products.
Most of them can work without any power at all. Typically in one of these stoves, the power is used as the ignition source, but with a simple lighter, you can bypass the need for an electronic ignition.  Here are a few of my favorites.
Camp Chef Propane
Camp Stove
Hotpoint Stove/Oven
BBQ
Solar Oven
Wood Cookstove
Price
$130
$400
$569
$549
$386
Energy Efficiency
N/A
Negligible
Battery
Battery
Lots Of Wood
Size
13"x24"x4"
4.8 cu ft
529 sq in
136 sq in
6.25 in cook surface
Ongoing Cost
$15/month
$30/Month
$45/month
$10/Month
Free – $150/month
Water Usage
N/A
N/A
N/A
N/A
N/A
Ease of Maintenance
Easy
Moderate
Difficult
Moderate
Moderate

Camp Chef Propane Camp Stove
I started off with this Camp Chef propane stove when I first got into my off grid homestead.  In fact I was using this stove BEFORE I finished building my home.  If you have ever gone camping then you would know these types of stoves well.
This camp stove is compact, fitting in tight counter spaces.  It is recommended that they be used outdoors, but I used mine on my kitchen counter for years (there was a large window near it for ventilation).

The two burners get cooking quick and the design of this stove makes it super easy to clean.  Best of all, it uses very little propane.  I would choose this stove first if you are on a budget or not quite ready for a full size appliance.
| | |
| --- | --- |
| Pros | Cons |
| Compact | Small |
| Affordable | No Oven |
| Easy To Clean | |
Hot Point Stove/Oven
The Hot Point Stove is my current oven that I use in my house and I love it.  It is so much nicer to have 4 burners and an oven.  The 2 burner camp stove was getting too small for my family, plus, I like to make pizza.
This stove has zero digital components but it does use power for ignition.  However, if the power is out, you can use a lighter to get things started.  You cannot do that with some of the stoves out there that are more digitally oriented.

You can get one of those smaller stove/ovens that are designed for off grid living, but their cook surface is small, it's hard to actually use all of the burners at once.  Plus, they can be pretty pricey.

This stove is pretty easy to clean, except when a rat decides to make its home in it (but that's another story).  That would probably be its biggest drawback.  All in all, it is a great off grid stove that can be purchased at your local Home Depot, if it is ever in stock.
| | |
| --- | --- |
| Pros | Cons |
| Lots of Cooking Space | Big |
| Has an Oven | Rats Love Them |
| Good Price for what you get | Uses Propane |

BBQ
When a rat moved into our oven and I was battling it to the point of it driving me crazy, we started doing more cooking on a BBQ.
A BBQ is a great option for off grid cooking.  No need for electricity, all you need is propane or some charcoal and a lighter.  I don't have to get into the benefits of grilling with most of you out there, food cooked on a BBQ tastes amazing.

Did you know that you can bake on a BBQ too?  It takes a little longer than a conventional oven but I have made pizza, baked bread and cookies, you name it.  I love my BBQ, except for all of the propane it uses.
| | |
| --- | --- |
| Pros | Cons |
| Fun To Cook With | Can Be Expensive |
| Food Tastes Great | Uses A lot of Propane |
| No Power Needed | Hard To Clean |

Solar Oven
Here is the ultimate Off Grid cooking option, cooking with the sun.  No need for propane or wood, just use the sun's thermal energy to cook your food.  Solar ovens have come a long way throughout the years and this one does not disappoint.

Able to act as an oven or a grill, work at night or on cloudy days, the Go Sun Fusion Solar/Battery Powered Oven is a fantastic oven for the homestead.  No longer do you need the sun to be out in order to cook, which can be a drawback with other solar cookers.  I want to eat hot food on cloudy days just as much as sunny days.
There is something satisfying about cooking with the sun.  Downsides are that you cannot cook for a big group with one of these solar cookers and the food can taste a little different than your conventional oven.  Think less crispy.  But all in all, for cooking without any inputs besides the sun, this is a pretty cool off grid option.
| | |
| --- | --- |
| Pros | Cons |
| No Propane Needed | Small |
| Compact and Portable | Slower To Cook Than Conventional Ovens |
| Easy to setup and clean | Expensive for its size |
Wood CookStove
If you live in a cold climate, this can be an option, but most likely not one you would do for every meal.  You can use a wood cookstove to cook your meals, but unless you really need to heat the house, it is mostly impractical.
It takes so much wood and so much time to heat up that you'd be better off using propane.
Likewise, you can cook over an open fire in your yard or better yet, dig an Imu pit.  An Imu pit utilizes fire to heat rocks that slow cook your food in the ground.  If you've ever had Lu'au pig then you'll know how great food can taste from an Imu Pit.
How Do You Heat Water Off Grid?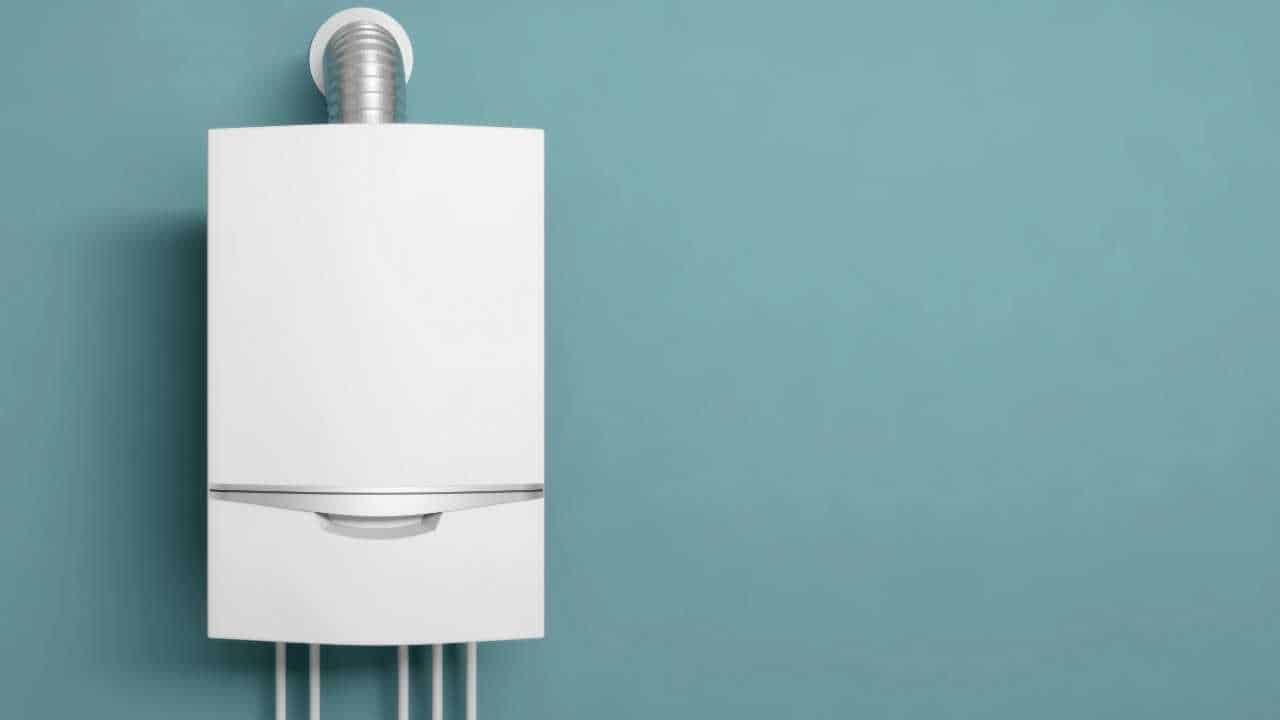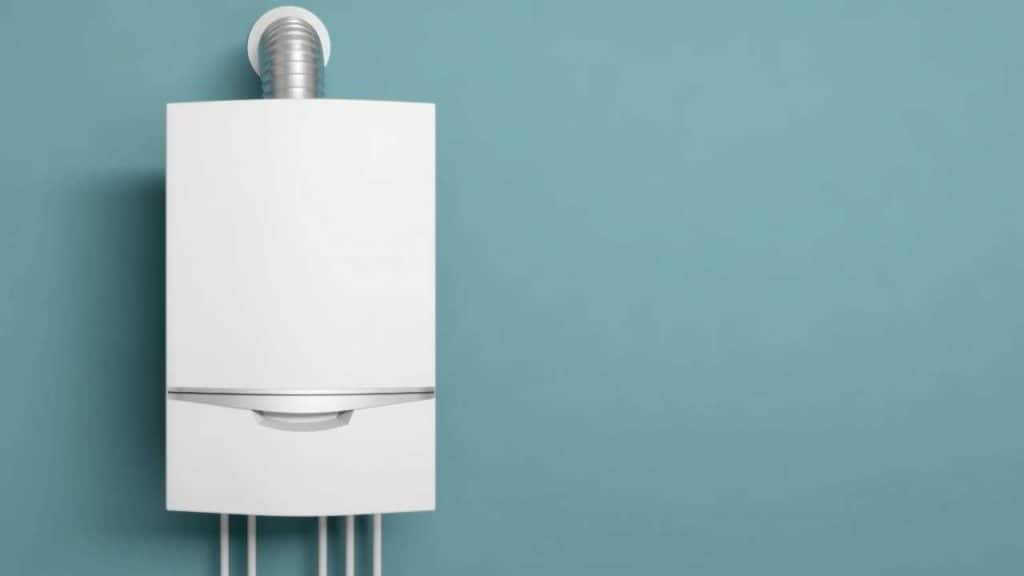 Water can be heated a few different ways on the Off Grid Homestead, with an On Demand Water Heater, Solar Water Heater, Conventional Boiler Heater, by way of cookstove, and through a compost pile.  Each method has its benefits and drawbacks.
| | | | | | |
| --- | --- | --- | --- | --- | --- |
| | On Demand Water Heater | Solar Water Heater | Boiler Heater | Cookstove | Compost Pile |
| Price | $915 | $2599 | $429 | $200-$1000 | $100 |
| Energy Efficiency | Efficient | Very Efficient | Not Efficient | Very Efficient | Very Efficient |
| Size | small | 68"x48"x60" | 48"x23"x23" | Varies | Large |
| Ongoing Cost | $25/Month | $0/month | $65/month | $100 for wood | $0 |
| Water Usage | 7.6 gpm | 40 gal capacity | 50 gal capacity | $20 gallon capacity | 20 gallon capacity |
| Ease of Maintenance | Needs occasional Cleaning | Low | Moderate | Moderate | High |
On Demand Water Heater
An on demand water heater only heats water when it is needed, making them very efficient.  They come in two different styles, electric and propane.  For our purposes though, a propane on demand water heater would be the way to go because the electric version uses a LARGE amount of energy, making them impractical for the off grid home.
I use an on demand water heater at my home because it is not only the cheapest option, but it gets the job done.  Plus, I have a pretty small house and thes take up very little space on the outside of the house.

There are a few manufacturers on the market out there with the most popular being the Rinnai 7.5 gpm On Demand Water Heater.  The Rinnai water heater can heat up a lot of water in a short amount of time and has been known to last a long time.

I have a Rinnai Hot Water On-Demand water heater, have had the same one for over 15 years now.  It works pretty well.  If the water pressure is low it has trouble heating so you have to make sure those water filters are clean, but other than that, it delivers hot water when I need it.  It uses a 5 gallon propane take every 1.5 months for a house with 4 people.

Solar Water Heater
A solar hot water system utilizes panels equipped with tubing where the water runs through and gets heated by the sun.  They are a very efficient way to cut down on your propane or electric bill, but they do not work on their own.
When it is cold or the sun is not shining, they do not produce that much hot water, that's where backup comes in.  Many of these systems are equipped with a hot water tank that can store the heated water produced by the panels to be used at night or during cooler periods. 
They sometimes come equipped with a backup water heater such as an on demand water heater to ensure there is hot water when it is needed.
A simple solar hot water system starts at $3k and goes up from there.  While that may sound costly, it can cut 50% to 80% of your hot water bill depending on where you live, paying back for itself in 5-8 years.
Boiler Heater
This is the conventional way most homes heat their hot water, although I would not recommend it for off grid use.  It consists of a large hot water tank that you typically find in a basement or some small closet near the kitchen. 

These systems work by heating up water and storing it in a hot water tank.  Difference between an on demand hot water system is that they operate by heating up water to a certain temperature at all times, even if the water is not being used.  They take up a lot of space and cost a lot in energy.
If you are thinking of installing one of these systems, consider pairing it with solar hot water panels.
Cookstove
This is a creative way people in cold climates have come up with to heat their water.  Since you are making a fire to heat your home anyway, why not use that same heat to heat your water?
By wrapping copper coil pipe around the flue of the cookstove, the heat from the fire quickly heats up the water in the pipes, which can be stored inside of a hot water tank.

This would not be a great way to heat your water in the summer when you don't want to have a boiling fire in your home, but for the winter, this is a great way to ensure hot water with little cost.
Compost
Did you know you can heat up water with a compost pile?  A well made compost pile can reach up to 155 degrees in the middle of the pile, more than enough to heat water up for your home.
They are constructed by building a large compost pile with water tubing placed in the middle of it.  You can use copper or pex, but most people use polyethylene tubing, or drip tubing.
This is a great example of permaculture in function, getting multiple uses from a single element.  
However, there are issues with this system.  The heat in the compost pile only lasts for a very limited amount of time and when the time comes to turn your pile, you have to deal with a web of tubing that is just one giant mess.  
A great option for a short term solution, but how long can you really keep it up?
Best Off Grid Laundry Options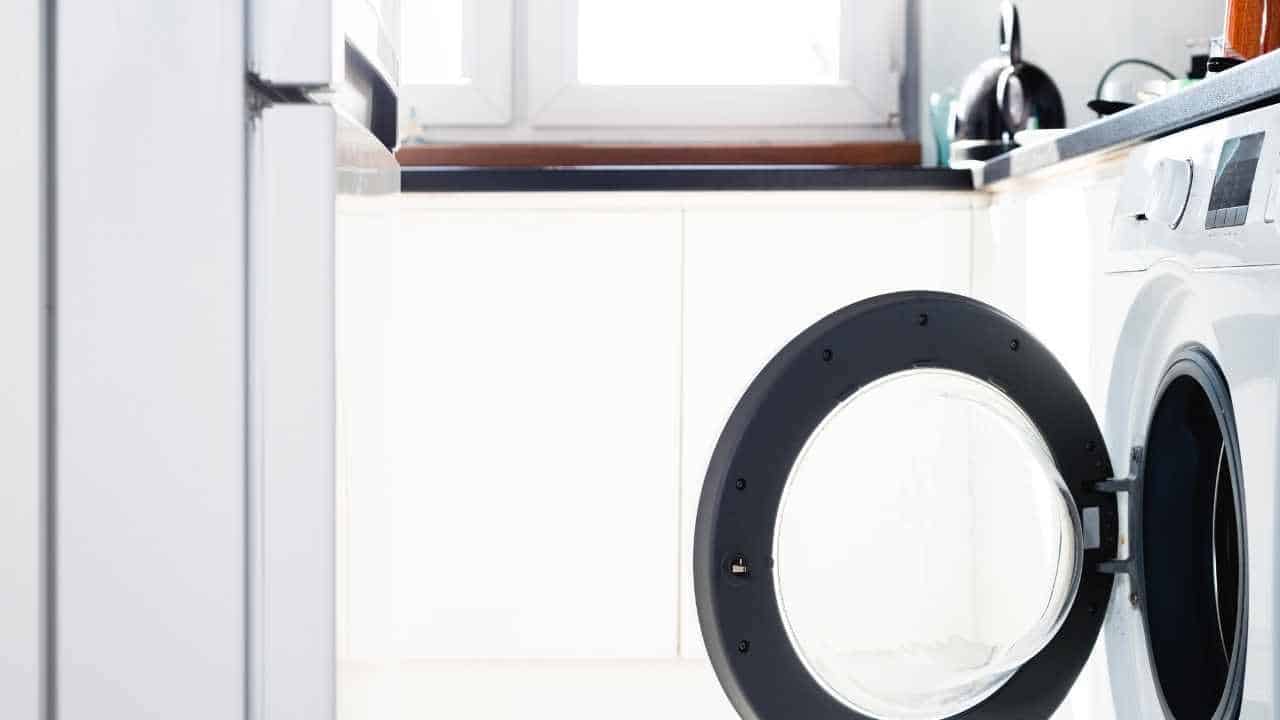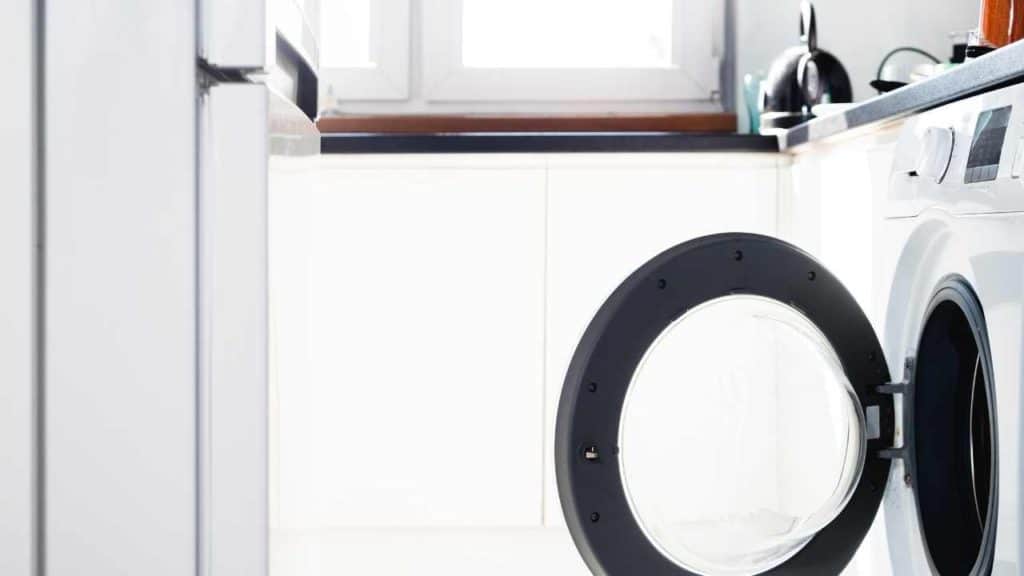 | | | | | |
| --- | --- | --- | --- | --- |
| | Portable Wash Machine | Bucket and Plunger | Top Loading Washing Machine | Front Loading Washing Machine |
| Price | $220 | $35 | $674 | $764 |
| Energy Efficiency       | 30-290 kWh per year | Highly Efficient | 300 kWh/year | 55 kWh/year |
| Size | 1.6 cu ft | 5 gallon | 27"x42"x27" | 27"x38"x32" |
| Ongoing Cost | Low | $0 | $20/month | $20/Month |
| Water Usage | Low | Low | High | Moderate |
| Ease of Maintenance | Easy | Easy | Moderate | Moderate |
Portable Wash Machine
There are a few laundry options available on the internet that work very well for off grid laundry needs.  One of these options is a portable wash machine.
These work similar to a conventional laundry machine except they are smaller and designed to be portable, with easy hookups in the back for a garden hose.
They take very little energy and water to operate, but because they are portable, they do not fit very many clothes per wash cycle.  Having to run 5 loads to one conventional laundry machine load almost negates the energy savings.
Bucket and Plunger
If you are looking for a simple way to get washing your clothes fast with zero energy inputs except your own, then the bucket and plunger could be just what you need.

I washed my clothes like this for a few years before I got a top loader machine.  All you need is a 5 gallon bucket and a specialized laundry plunger.  Typical bathroom plunger do not work the same.
The plunging action draws water through the clothes fibers, removing dirt.  It was remarkably easy to use, but it took a lot of my time where I could be doing other things on the homestead.
Besides, it cleans the clothes pretty well, but what about getting excess water out?  There is no spin cycle and I haven't found a hand wringer that did the job well, so you are left with some pretty wet clothes that you need to hang out to dry.
Top Loading Washing Machine
After a few years of washing clothes by hand, I finally got myself a top loading washing machine.  Now the time spent washing clothes could be spent finishing up projects around the homestead.
These are the standard washing machines found in most homes, although the front loading washing machines are quickly becoming the new standard.  While a top loader is not as efficient as a front loader, they are still pretty efficient.

I found a 4.3 cu ft HotPoint Washing Machine with no digital displays from Home Depot to be efficient enough to get the job done.  With my system, I can do the laundry during the peak power production part of the day, or simply turn on the generator.
My life really has changed with one of these.
Front Loading Washing Machine
I live in the wet tropics, so water isn't an issue for me, but if it was, I would've probably chosen a front loading washing machine.  These machines can be both energy efficient and water efficient.
They are easier on the clothes too.  Utilizing a tumbling method of washing instead of an agitator, clothes don't tend to rub or get holes in them as they sometimes do with a top loading machine.

Only problem, these machines tend to get a little moldy and smelly and in the wet tropics we do not need any more help in that department.
The Best Off Grid Appliance You Probably Didn't Realize You Needed
One thing that I always wish I had but didn't think that I would ever be able to because of limited power capacity was a crock pot.  The idea of throwing food in a slow cooker and having it ready for me when I got home sounds very appealing.  I am sure I am not the only one.

Only problem is, most slow cookers are also power suckers.  But that is not true anymore.

Behold the Stanley Adventure Stay Hot Crock Pot.  It is essentially a thermally insulated pot that has another pot fit inside of it.  You heat up your food on the stove for 5-10 minutes till it comes to a boil, place it into the thermally insulated pot and it can continue to cook for up to 8 hours with no added electricity.

Finally, an easy way to cook meals and still get work done around the homestead.
Homesteadinhawaii.com is a participant in the Amazon Services LLC Associates Program, an affiliate advertising program designed to provide a means for sites to earn advertising fees by advertising and linking to Amazon.com. This site also participates in other affiliate programs and is compensated for referring traffic and business to these companies.